GO ANYWHERE YOUR 4 x 4 CAN TAKE YOU – NO LIMITS!!
The UEV-390 isn't just any off-road trailer; it's the ultimate off-road camper!
~ UEV-390 is one of Conqueror's best-selling trailers in its range  ~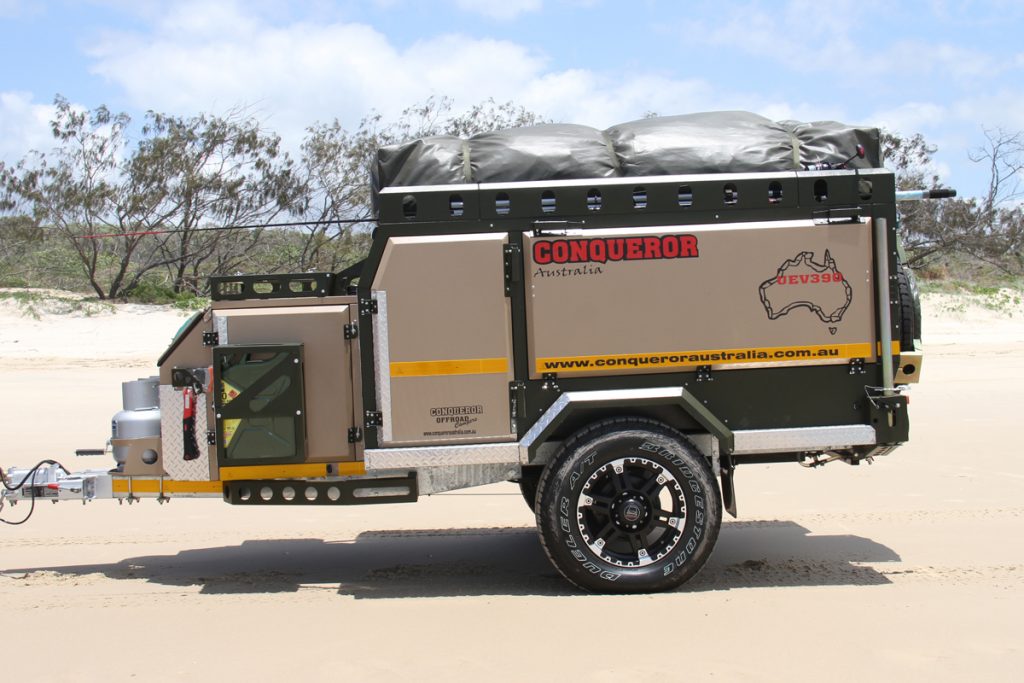 The Conqueror UEV-390 has more features and compartments than a treasure chest.
The Conqueror UEV-390 is built for the toughest conditions. Despite its rugged construction, the UEV-390 is surprisingly light (850 kg tare) and well balanced. Even with water in the twin tanks, the tow hitch is easy to lift.
Most importantly, the UEV-390 shakes off knocks, bumps and scrapes with ease and is the ultimate off-road escape machine best suited for those families and couples seeking adventure
GET YOUR UEV 390 BROCHURE
The UEV-390 provides Conqueror's signature comfort and luxuries!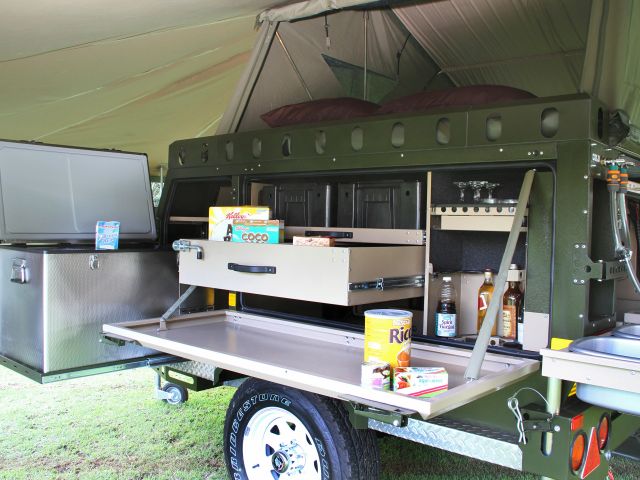 Main Features and Specifications
The Conqueror UEV 390 is packed with features & it will take you anywhere your 4×4 can take it.
Commander Specifications ~ Suspension & Body Construction:
50mm ALKO coupler and standard axle
3 x 16″ alloy wheels fitted with 245/70/16
AT tyres Galvanized chassis
LED tail lights 2 x heavy duty support legs fitted at rear of trailer
Mud flaps
Battery, Electrical and Power Systems:
Mechanical Breaking System
5 x Hella plugs
Intelligent power pack
2 x 100Ah batteries
From mini bar to full slide-out kitchen and even a dedicated spot to hang your clothes!
When erect, the tent reveals a king size bed (2.1m x 2.1m) up top and a large living area down below.
The bed can comfortably accommodate two adults (and a child) while the enclosed living area will happily house an inflatable double bed or two single camping stretchers.
1 fitted sheet, 2 pillows + cover, 1 doona insert + cover
Kitchen, Cooking, Water and Gas
The Conqueror UEV-390 sports numerous storage compartments but the real magic happens on the sides and at the rear of the trailer where an L-shaped kitchen slides out on a robust drawer system.
Camping chefs will not scoff at this setup.
Fridge sliding rail set
90L National Luna freezer/fridge
Kitchen unit with crockery slide out shelf above fridge
Cutlery & crockery set
Vegetable and condiments storage areas
Slide out stainless steel
Domestic stove
2 x 4.5kg gas bottles
2 x 75L water tanks
Pressurised water pump & filter
Nosecone storage
2 x jerry can holders
2 x military grade jerry cans
4 x Wolf packs on slide out frames
2 x slide out storage shelves (4 deep storage bins)
Wood/mounting rack on nose cone
Tent pole storage container
Bathroom cupboard
2 x utility bags fitted in doors
Canvas, Awnings and Groundsheet:
L-shape PVC awning with poles, ropes
and pegs
Foldout tent (2.1m x 2.5m floor space)
Midge mesh on tent
Caravan style mesh ground sheets (5.6m x 2.4m)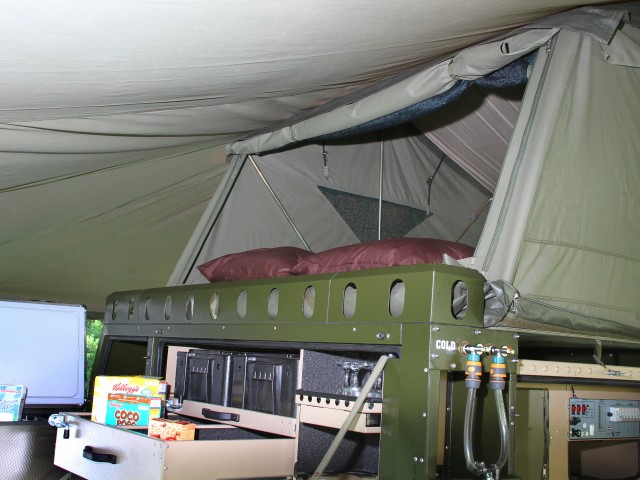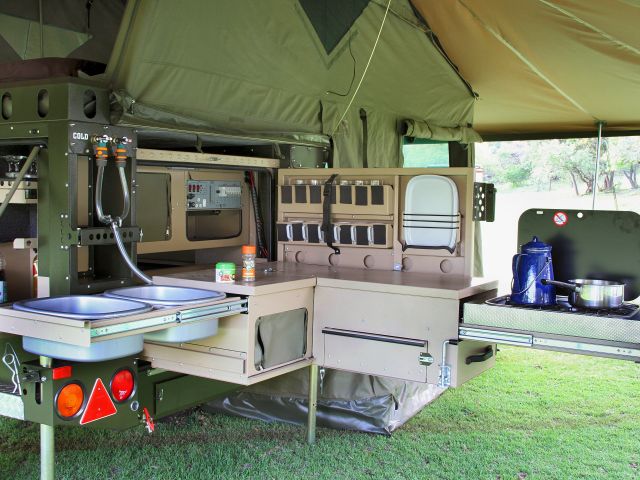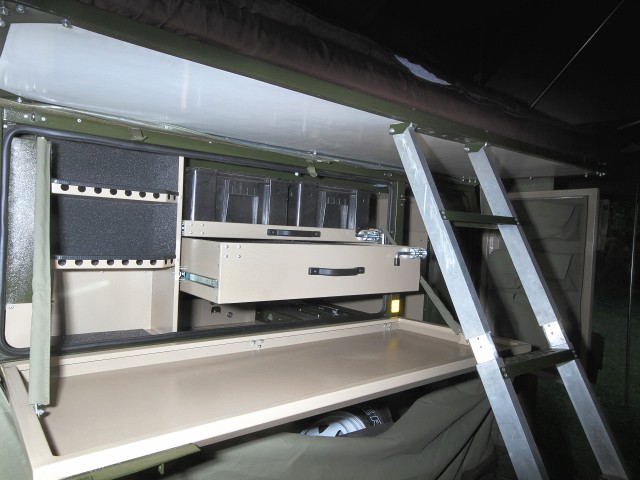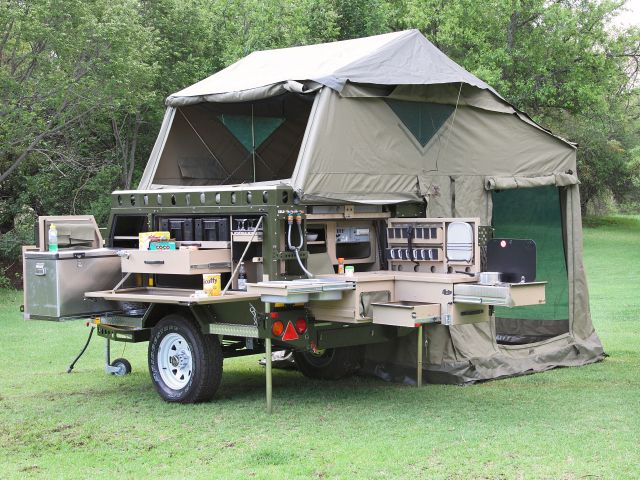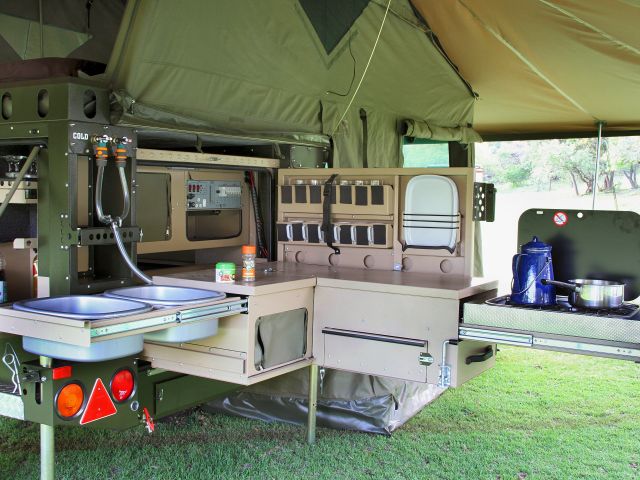 UEV 390 Unique & Special Features
Modular slide out units for kitchen, bathroom, fridge, hot water system and storage shelves etc.
Minibar cupboard
Camping table – plastic blow-moulded
6 x LED lights inside trailer
6 x LED lights with 5m ext. and hella plugs
Mounted light inside
Tie down straps
8 x eyelets for tie downs
Galvanised BBQ grill fitted on spare wheel
Spare wheel bracket
Axe and spade with individual mountings
Aluminium stone protection
Oztrail toilet/shower cubicle
Fire Extinguisher
10" Off –road electric drum braked axles*
Stone Stomper (Mesh vehicle protector)
Side Walls
Gas Hot Water System Upgrade
80W foldable solar panel
120W foldable solar panel
Pure Sine wave inverter 300W
UEV 390 Off Road Campers from Conqueror North America